Joseph Cartwright

'
Biographical information
Full Name:
Joseph Francis "Little Joe" Cartwright
Occupation:
Rancher, bodyguard, riding teacher, choir master, karate teacher,
Gender:
Male
Race/Ethnicity:
Caucasian
Hair color:
Dark brown
Eye color:
Green
Born:
1842
Died:
N/a
Personal
Family/Relatives:
Ben Cartwright (father)
Marie DeMarigny Cartwright † (mother)
Adam Cartwright

(half-brother)
Hoss Cartwright (half-brother)
Clay Stafford (half-brother)
Jamie Cartwright (adopted brother) biological sister Jillian Cartwright

Spouse
Jillian lane Cartwright
Romances/Domestic Partners:
Jillian
Children:
Herbie and Harvey and Henry and Cassie and Camilla and Colette
Profile
Appeared on:
Bonanza (TV Series)
First Episode:
"A Rose for Lotta" (Series pilot)
Last Episode:
N/a
Portrayed by:
Michael Landon
Joseph "Little Joe" Francis Cartwright is the third son of Ben Cartwright and the only common child of Ben and Marie Cartwright.
Personal life
Edit
Joseph Cartwright was named after Marie Cartwright former husband Joseph "Big Joe" Collins. He has little memory of his beloved mother, and was under five when she died in a horsing accident, one he would mirror years later when his horse Cochise falls at the ranch.
Little Joe received his nickname because compared to his brother, Hoss, he was little in comparison. Joe likes playing checkers and poker, he also likes making bets that end up with hilarious results.
About "Little Joe"
Edit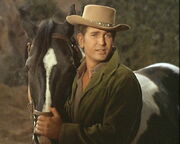 "Little Joe" was the only Cartwright born on the Ponderosa, unlike his other family members. He was the third biological son of Ben Cartwright. Joe enjoys reading detective novels, and also loves to laugh, which is contagious to anyone near him. His trademark horse, Cochise, often fondly called "Cooch", is a black and white pinto. Joe is very fond of his horse. Little Joe is also not known to be one to back away from a fight or a challenge, as his hot temper sometimes takes over and clouds good judgement and common sense. However, he seems able to recover from any fight either unscaved or, from that a bullet wound with nary a scratch.
Appearances
Edit
Little Joe appeared in 416 of the 430 Bonanza episodes which means that he was only missing in fourteen episodes.
Behind the scenes
Edit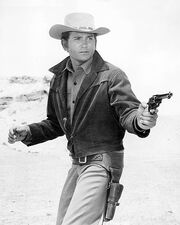 The role of "Little Joe" Cartwright on Bonanza was played by actor Michael Landon.
→ See also Joseph Cartwright/Gallery#Images
→ See also Joseph Cartwright/Gallery#Videos
References
Edit
External links
Edit
Community content is available under
CC-BY-SA
unless otherwise noted.