About to set out on a cattle drive, Ben hires a young drifter named Sam Jackson as one of his drovers. What he doesn't know is that Jackson is really outlaw Johnny Logan, who signed on to the drive because he knew it was going to pass near the town of Waycross, and Logan is determined to kill the Waycross sheriff - who is his father.
Ben and Hoss hire a new trail gang to take cattle back to Nevada. The group includes a young drifter using the name Sam Jackson. In reality, he's outlaw Johnny Logan who intends to kill Sheriff Logan, his father, when they pass through Waycross. The leader of the trail gang, Brazis, recognizes Logan but keeps it to himself.
Cast and Characters
Edit
The Cartwrights
Edit
German episode title: "Sperrzone für Viehtreiber", meaning "Forbidden Area For Cattlemen".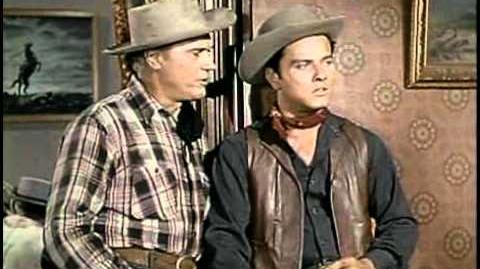 Community content is available under
CC-BY-SA
unless otherwise noted.